Cleveland Snow Plowing & Snow Removal Services
The experts at H&M Snow Pros use state of the art equipment to improve productivity and save money for our Cleveland Area clients. Dispatchers and Area Supervisors monitor each site 24/7 to provide peace of mind. We use in-house Doppler radar covering all of Northeast Ohio with area specific longitude and latitude settings to monitor each account. H&M Snow Pros can then pool our Cleveland based, contractor grade resources and implement a snow response plan with pre-storm training specific to your location, ensuring the highest quality snow removal service.
Snow Removal Video
of the Week: Salt Truck

Cleveland area weather changes fast and it can be a challenge to plan snow plowing and salt spreading operations. There is a balance between efficient and timely snow removal services, environmental impacts and the safety and accessibility of a commercial property. Traffic volume, blowing and drifting snow, snow melt/refreeze cycles and freezing rain can cause ice build-up and lead to vehicle accidents and slip & falls... Read More
Northeast Ohio Weather
Event Totals: 2/15 - 2/17/21

Cleveland's latest snow event from February 15-17 was widespread throughout the entire area of Northeast Ohio. The snow was concentrated in the northern counties of Lake, Ashtabula, Lorain as well as northern Cuyahoga and Geauga. This area saw anywhere from 6-12 inches, with areas of Geauga and Lake County topping out at 15 inches. The remaining areas: southern Cuyahoga, Summit, Portage, Trumbull and Medina caught 3-6 inches. Extremely cold temperatures were also a factor in creating very icy conditions... Read More
Greater Cleveland Area
Snow Forecast: 2/14/21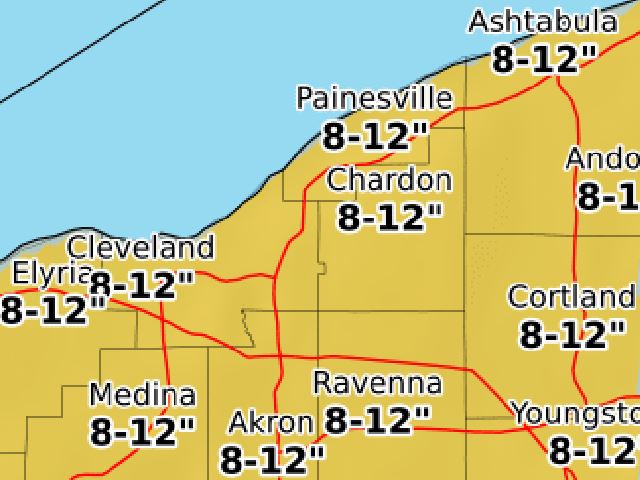 We've had a break in heavy snow in the last 10 days, with only minor precipitation to accompany the very cold temperatures. That will change after the Valentine's day weekend as a winter storm warning is in effect for Sunday night into Tuesday morning. The entire Greater Cleveland Area is expected to receive a whopping 8-12 inches by Tuesday morning. H&M Snow Pros is geared up and ready to tackle the upcoming storm... Read More
Snow Removal Video
of the Week: Skid Steer

Skid-steers are extremely maneuverable and versatile snow removal machines- they turn on a dime and can plow in both directions without having to back up. They excel when plowing shorter driveways or drives with garage doors that are found at Cleveland area homeowner association properties, condos and in self storage situations. This ability to easily plow in both directions also increases safety, with much better visibility... Read More
"Snow Plow Services that
Provide Peace of Mind"