Cleveland Snow Plowing & Snow Removal Services
The experts at H&M Snow Pros use state of the art equipment to improve productivity and save money for our Cleveland Area clients. Dispatchers and Area Supervisors monitor each site 24/7 to provide peace of mind. We use in-house Doppler radar covering all of Northeast Ohio with area specific longitude and latitude settings to monitor each account. H&M Snow Pros can then pool our Cleveland based, contractor grade resources and implement a snow response plan with pre-storm training specific to your location, ensuring the highest quality snow removal service.
Cleveland Commercial
Snow Plowing Services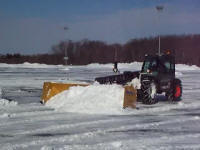 After a snowfall, it is important to clear parking lots and sidewalks to provide safe access for employees, customers and suppliers. Promptly removing snow and minimizing icy surfaces is crucial for reducing the likelihood of slips and falls. H&M Snow Pros is always there to attend to and manage Mother Nature for our customers. Small or large snow amounts can be easily handled without issue by our certified and professional snow account managers. Our reliable crews are in heavy demand again this year, so it is critical to have H&M service contracts in place prior to the first snowfall of the season.

When selecting a contractor, it is imperative to make sure the people who remove your snow/ice will show up as anticipated, do a thorough job and work within previously negotiated contracts and price guidelines. We make sure the contract covers all your needs (i.e., parking lots, driveways, walkways). Look for an established, licensed and bonded professional and always check references. Ask to see the contractor's certificates of insurance and make sure coverage for liability and workers compensation insurance is current... Read More
"Snow Plow Services that
Provide Peace of Mind"