Cleveland Snow Plowing Articles and Tips
Cleveland Snow Plowing
& Snow Removal Jobs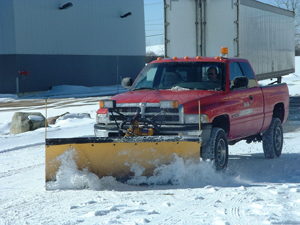 H&M Snow Pros is currently offering premium pay for Cleveland area snow shovelers($16-$22/hr), snow plow operators($20-$25/hr), snow removal equipment operators($20-$30/hr) and snow removal contract drivers($55-$60/hr). These positions require the ability to work on call 24/7 during the winter months and in all weather conditions found in the Greater Cleveland Area in the surrounding areas of Northeast Ohio. Contracted drivers will need proof of insurance, a reliable truck to provide snow plowing & removal services and reliable mobile phone service to keep in contact with area managers and dispatchers.

Snow contractors (with or without their own equipment) can visit the following link to apply for all positions offered for commercial snow removal in Cleveland: Cleveland Snow Plowing & Removal Jobs
Salute to our
Cleveland Winter Workers

The true heroes of the harsh Cleveland winter are the snowplow operators, salt truck operators and sidewalk crews who spend many nights and countless hours making sure the 9-5 workers can get to their jobs as safely and quickly as possible. These workers are basically on call 24/7 for 3 or 4 months. They leave their houses at midnight and sometimes don't return home until the late afternoon. The work ethic of those who willingly do this difficult job shouldn't go unnoticed, and that is why we thank you! From all of us at H&M, we want our winter workers and all others who brave the elements clearing Cleveland's parking lots, sidewalks and roadways to know that they are appreciated and a huge reason why so many companies in the industry are able to continue their success through all seasons.

So, if you as a consumer see any of our employees during a snowstorm, grab their attention and tell them their work isn't going unnoticed. Those kind words will go a long way.
Commercial Snowplowing Services for your
Cleveland Facility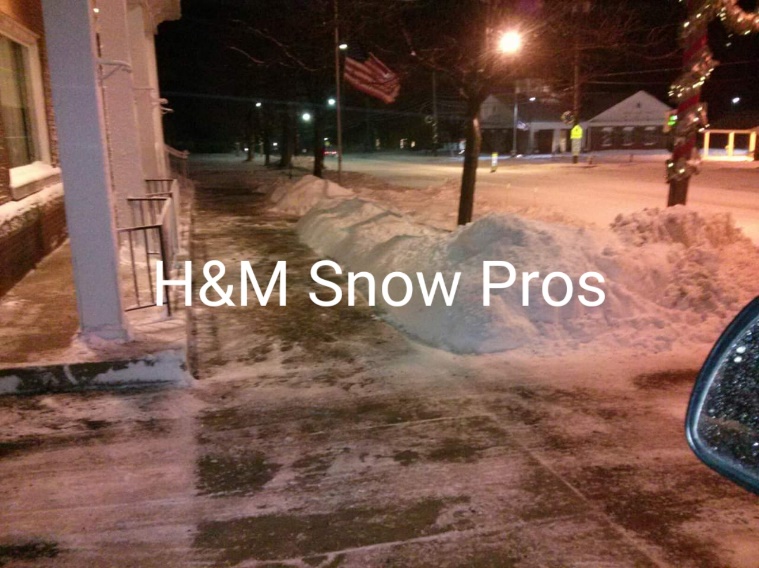 Managing inclement weather across Northeast Ohio can be daunting, especially with the liability associated with snow and ice. Every facility has different needs and we understand there is not a one-size approach to snow and ice management. Our team will work with you to simplify your snow removal needs to remove the burden of managing multiple snow and ice removal companies across Cleveland and Northeast Ohio. We will always save you time, and money while providing timely service and a safe environment on the outside of your facility. Our attention to detail on safety and a clean curb appeal stands out above the rest. Make H&M Landscaping your one phone call for all your commercial snow and ice removal needs.
Cleveland Commercial
Snow Plowing Services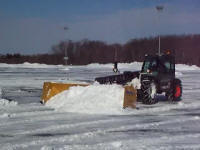 After a snowfall, it is important to clear parking lots and sidewalks to provide safe access for employees, customers and suppliers. Promptly removing snow and minimizing icy surfaces is crucial for reducing the likelihood of slips and falls. H&M Snow Pros is always there to attend to and manage Mother Nature for our customers. Small or large snow amounts can be easily handled without issue by our certified and professional snow account managers. Our reliable crews are in heavy demand again this year, so it is critical to have H&M service contracts in place prior to the first snowfall of the season.

When selecting a contractor, it is imperative to make sure the people who remove your snow/ice will show up as anticipated, do a thorough job and work within previously negotiated contracts and price guidelines. We make sure the contract covers all your needs (i.e., parking lots, driveways, walkways). Look for an established, licensed and bonded professional and always check references. Ask to see the contractor's certificates of insurance and make sure coverage for liability and workers compensation insurance is current.

H&M Snow Pros is a very sought out and reputable company that is a one-stop shop and can handle any landscape project or any snow removal needs you may have. From small snow storms to large blizzards, our company will make sure your property is serviced and taken care of so you can have peace of mind. We strive to bring the same incredible service to all of our accounts- no matter what size the property. We take tremendous pride in our business and our clients' needs are of utmost importance to our company. Call us today for a free quote on snow removal services for your property.
"Snow Plow Services that
Provide Peace of Mind"